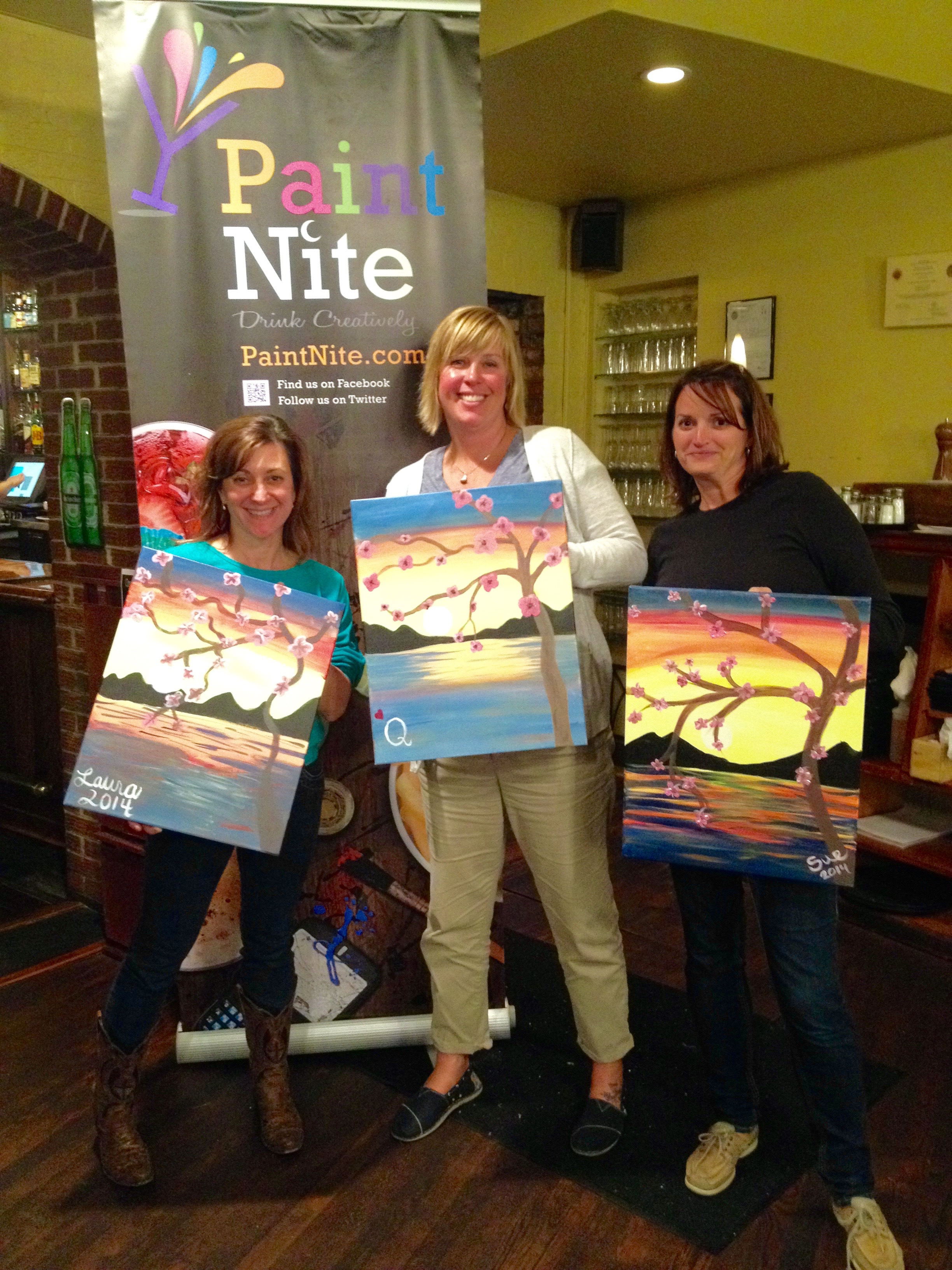 About a year ago a friend invited me to join her for a Paint Nite event. I had heard about these gatherings and had actually seen some finished projects on Facebook. I was impressed! However, the first thought that went through my head was, "I can't paint. I would never be able to make something like that!"
In case you aren't familiar with the concept, a Paint Nite works like this…a group of people get together, usually at a bar or restaurant, and over the course of about 2 hours they are guided step by step through the painting process. Everyone walks away with 16" x 20" canvas painting that has been modeled after the one the instructor brings.
Several years ago, I made the conscious decision to stop turning away from things that scared or intimidated me. My mantra was (and continues to be) feel the fear and do it anyway. This is how I practice courage. With this mantra in mind, I decided to say yes to the Paint Nite invitation. Here is a picture of my finished product 🙂
That night I not only walked away with a painting I'm proud of, but I also walked away with some important life lessons that I'd like to share with you now.
Life Lesson #1 – Begin by beginning.
Honestly, the hardest part for me was putting the first stroke of paint on the canvas. My entire life I've wrestled with perfectionism and certainty. I wanted my picture to look just like the artist's. I wanted to know that mine was going to turn out as good as the already completed painting she brought with her as an example. I wanted a gold star on my finished project. I was afraid to start because I didn't want to fail, but that's not feeling the fear and doing it anyway, so I grabbed the brush and began painting.
What I learned that night was that sometimes (dare I say most of the time) it's impossible to predict the outcome of events with certainty. What I already knew, but needed to be reminded of, is that perfectionism is overrated and not helpful. Healthy striving is my goal, not perfectionism. Once its safe to leap, sometimes you just have to leap. There are many areas in my life where the lesson to begin by beginning applies. Blog writing, exercise, scrapbooking, clearing out my closet, and even things like difficult conversations that need to be had are a few areas that come to mind for me.
Life Lesson #2 – Permission slips work. Remember to use them!
One of the tools I use when working with coaching clients is permission slips. It comes from the Daring Greatly curriculum that is part of the certification I got based on the work of Brené Brown. The idea is to finish the statement…I give myself permission to ____________. Permission slips help me get clear about what's holding me back and they help me show up more fully. During Paint Nite I gave myself permission to be disappointed in my final project, to be a beginner, and to have fun with my friends. As soon as I gave myself this permission everything changed. I was able to be in the moment with the painting. It was a fun night!
Life Lesson #3 – Be careful with comparison.
During my Paint Nite experience, I found myself looking not only at the instructor's painting for reference, but also at the paintings of the people around me. There were times during the night that looking around gave me inspiration, but there were also times when looking around only made me feel like my painting wasn't measuring up. There seems to be a tipping point for me.
What I learned that night is that comparison has two sides. There is the side that motivates and inspires me, like when I'm working out and I notice the person beside me really pushing herself and I think, I could try a little harder, and there is also the side that leads to feelings of not enough, like when I'm at a Paint Nite and I look at the masterpiece being created next to me and I think, Wow, my painting stinks!. Being careful to notice when comparison tips from inspiration to scarcity is something I need to be on the look out for on a regular basis.
Now it's your turn…
If you'd like to learn your own life lessons, consider joining us on October 28th for Be Creative. The evening will be a blend of art project and life coaching. As Shari, our artist for the evening, leads you through the painting process, I will coach you on topics such as perfectionism, comparison, courage, and permission. You will walk away not only with a beautiful piece of art, but also with your own life lesson takeaways. For more information Click Here.
Register today as space is limited
Do you love your life? As a certified professional coach since 2009, Laura Hall has been helping people just like you make changes in. As a mother of 2 girls, Laura has a special interest in coaching parents, so if you still have children living at home, ask Laura about her Wholehearted Parenting programs. Laura can be reached via email at [email protected] or feel free to visit her website HallCoaching.com
Save
Save