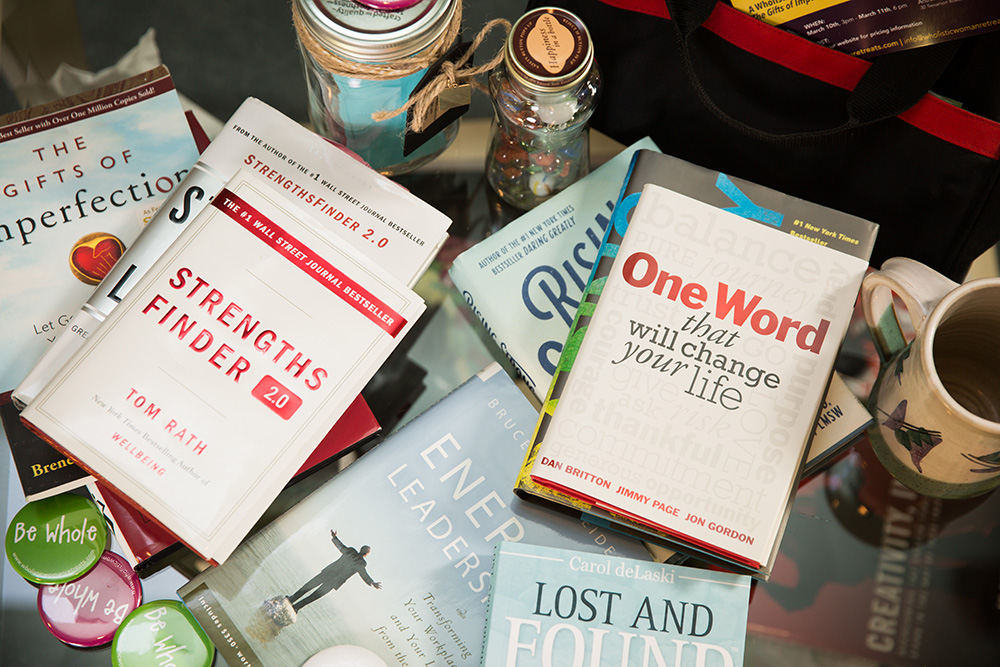 Enjoy for Wholistic programs are designed to develop you to reach your fullest potential. We offer a wide variety of personal and professional development programs to enhance your work and life by teaching proven tools and strategies to be a better leader.
At Wholistic Women Living, we believe everyone is a leader. Whether you're leading an organization, a committee, a business, or a family…you are, at minimum, leading your own life. That means you have choices every day about how you will show up, and what you will do, to lead a meaningful and fulfilling life.
It also means that you may question, at times, how to lead more effectively. How to create more of what you want in your work…and in your life…with less stress?
Some of our favorite, proven, tools are:
Strengths Finder – learn what your strengths are and how to manage them more effectively
Rising Strong Process –Falling down is part of life. We fall down when we lose work, or relationships. The question is, how do we get back up? We apply and practice using Brene' Brown's 3 step process of Reckoning, Rumbling, and Revolution to become more resilient.
Energy Leadership – This 7 level framework makes it easy to understand and manage negative energy, our own and others'. We learn and practice moving from toxic, draining energy to positive, productive energy at work and at home.
Wholeheartedness – 10 guideposts to Wholeheartedness developed by Brene Brown increase self-awareness and supports us making choices for our good on a regular basis.
Lost and Found: Discovering Strength in Love and Faith – Carol deLaski's guide to self-care is based on three foundational faith-based beliefs. Using a discovery process we practice finding our way back, again and again, when we get off-track and lose our way.
The Daring Way – Understanding the various arenas of our life and work, we practice cultivating empathy, self-compassion and the building blocks to be braver, more engaged, and motivated.
One Word to Change Your Life – One word for the year provides insight, new perspectives, and wisdom. The practice of receiving a theme word and using it as a lens throughout the year is a fun, yet deeply meaningful tool.
Special Event Expense Guide – Wouldn't it be great if you already had money set aside for life's special events- birthdays, weddings, festivals, holidays and those one-of-a-kind expenses that pop up. Download Coach Jane's monthly Special Event Expense Guide and never be caught off-guard again! 
Download the Special Event Expense Guide
Practices to Thrive Calendar – Practice mindful happiness with this reusable calendar that gives you daily practices to help you rise and shine and live a life filled with joy and happiness. Download Coach Kelye's monthly Practices to Thrive Calendar so you can live out your best self!
Download the Practices to Thrive Calendar
A longtime member of Wholistic Women Retreats + Academy writes:
"Coaching has been absolutely life changing. It's helped me know myself better, care for myself more, and manage my gifts more effectively. I've developed a whole toolkit of strategies with which to understand myself. I feel braver and more confident knowing that I have tools to use whenever life challenges me."