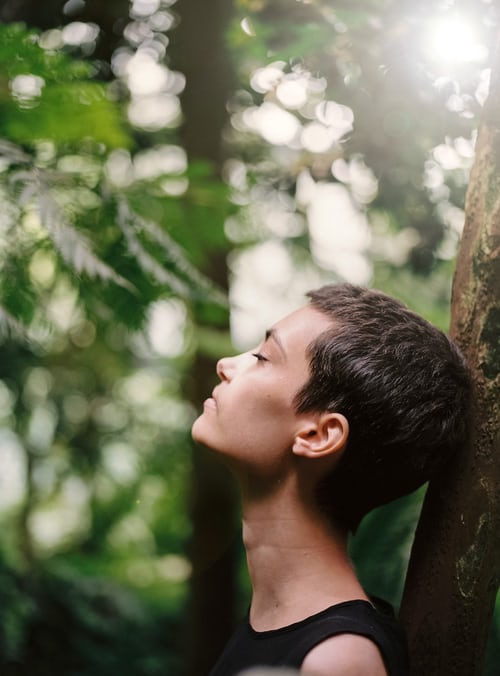 The pursuit of happiness has long been the goal of humankind. But, what is happiness?  For us, it could be a feeling of calm and security. For others, it may be a feeling of success on a professional and/or personal front. Happiness is truly subjective! 
One of the keys to unlocking the path to being happy is to practice mindful happiness.
Mindfulness is defined in the Oxford Dictionary as, "a mental state achieved by focusing one's awareness on the present moment, while calmly acknowledging and accepting one's feelings, thoughts, and bodily sensations, used as a therapeutic technique." So how does mindfulness increase our feelings of happiness?
By utilizing the power of awareness of the present moment, we allow ourselves the opportunity to connect with our heart, mind, body, and spirit with crystal clear transparency. When we allow our thoughts to be focused on the "now," we invite our clarity to serve as a compass, guiding us toward the happiness that may have eluded us in the past.
When practicing mindfulness, we pay close attention to the signals that our bodies are sending us, those pangs of guilt, shame, regret, and learning to bless and release them through allowing those signals to remind us that we are a work in progress. Through the mindfulness practice of breathwork, we empower our bodies to cleanse some of the adverse biological reactions that our bodies and minds have created in reaction to our perception of the lack of happiness. 
Mindfulness is a skill that takes practice! Our bodies and minds have a natural tendency to fight stillness. If you have tried meditation and find your mind racing with that list of "to-dos" or constant distraction, it's not your fault! Our brains are designed to be the operating system that we rely on both consciously and subconsciously. Taking some small steps in quieting your mind will lead to training your brain to power down temporarily. Here are some steps to try when working on quieting the mind:
Find a space that will allow you solitude and quiet

Start with an intention of a short time period, perhaps 5 minutes. You can always increase this as you increase your skill level!

Pay attention to your breath. Using this awareness as a focus increases the release of stress hormones, like cortisol and adrenaline, and increases the "feel good" chemicals such as serotonin and dopamine: both of which are "happiness hormones."

Notice your body: find a seated position that is comfortable to you and that will allow you to relax.

Allow your mind to wander. Remember, when your mind is sending you messages, it's doing its job! Work on recognizing the thought without judgment.
Mindful happiness occurs when we align our mind, body, and spirit with our unique strengths. Happiness is not a destination, but a journey of the authenticity of our truth, a lifelong practice of pursuing a wholeness that is genuine and unique to each of us. Each moment in our life gives us the opportunity to be keenly aware of the path to follow, even if it's one that you need to create. By following your individual journey through mindfulness, you will own the key to creating a life of fulfillment, which in my view is "happiness."