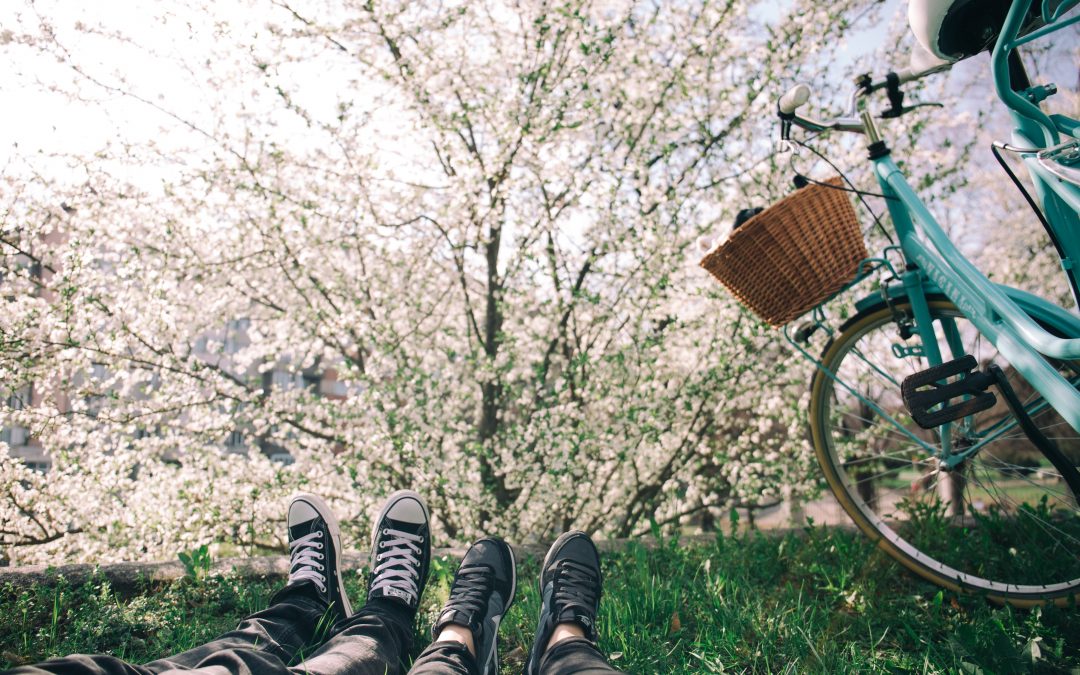 As we transition into the spring season, our lifestyle changes and our cravings for nourishment may shift. This could be in the form of food, connection, relationships and other areas of fulfillment. Though this is a natural transition, we are experiencing a time where our day to day is being shifted. We are more limited with food choices as grocery store visits are less frequent. With the warmer temperatures and days of longer sunlight, we want to get outside and play but are now having to stay in and isolate. We are living in an uncertain time and one where many are having to pivot. 
There have been some incredible examples of silver lining through this time. We are seeing dining room and kitchen tables converting to church, prayer and home schooling. Families are connecting more through games, cooking in the kitchen and friends are enjoying social time through online spaces. We are discovering new ways to get creative, restructure jobs, express creativity, learn and grow. 
I've been hearing many women sharing and discussing their desires for a healthier "new normal," balance, less stress and more self-care. As women, we carry many responsibilities and some of those are being shifted right now. We're pouring more into our homes, families, relationships, careers and facing additional emotions and feelings. Possibly leaving our own needs and desires on the back burner. Ladies, I am here to tell you that your needs are important. Your self care is part of survival and it's not selfish. 
For me, I've had to develop a new routine. I will admit that the first two weeks had some good days and some not so great days. I decided that things needed to change in order for me to discover a new way of life that supporting my health and wellbeing. Not just for my own body and mind but so I could also show up the best possible to serve my family, friends, clients and community. 
I set up a daily workout or movement schedule. Using what equipment I had at home and sticking to my gym routine. I created a menu for my meals and a shopping list since I knew trips to the grocery were cutting back. I've been connecting more through online platforms to check in with friends and family and connect through coaching. I committed to a Quarantine Kitchen with Kim cooking "show" to help others during this time. It also keeps me accountable to shower daily, get out of my yoga pants and implement self-care. I'm now adding in more Epsom salt baths each week for relaxation, stress management and immune support. These are just a few of my "new norm" routines that support my own bio-individuality. 
Creating and implementing new habits and routines will help support you during this time. Maybe your self care looks like an Epsom salt bath. Maybe it's a Zoom connection with a girlfriend and a glass of wine. Have you been saying "I wish I had more time to cook these recipes?" Well, now we have the time and more connection in the kitchen. While you're cooking, throw a dance party with your kiddos or spouse. Different areas of life are now merging together and we are discovering how that looks. 
Through my coaching programs and working one on one with clients, I emphasize several areas that support one another in life. These areas are fuel for life (nourishing foods), movement for life (whatever movement you enjoy), surrounded for life (relationships), fulfilled for life (passion, purpose, spirituality, and joy) and loved for life (self-care and love). Using a holistic approach, I educate others about how these areas of the "wellness wheel" are connected with one another. 
Many if not all of these categories (in addition to careers) are being impacted during this time. They are also connected in many ways. Do you find yourself eating differently now? Maybe you're feeling stressed, bored, uncertain of your career or experiencing tension in a relationship. Being mindful of how we are feeling, what we are thinking and our overall mindset is very important. Our thoughts, feelings and choices are not only harming or nourishing our wellbeing, but they affect our immune system too. 
As we transition through this season and the ones ahead, I recommend reflecting on the different areas of life as mentioned (nourishment, movement, relationships, fulfillment and self-care and career. Where can you make changes? What changes do you think should be made? Would a new routine or schedule assist your mind, body and overall lifestyle? Spring is a great time to detox. Though it may be harder to do so with food right now, it's a good time to release things that are not serving you well. Consider these areas (above) and see how they are intertwining in your life. Looking at a mind, body and spirit approach. How can you get creative with combining them? How can you nourish them? 
Ladies, I tell all of my clients to think about the oxygen mask on the airplane. We have to put ours on first so that we can show up greater for ourselves and others. It's time to move from the back burner. It's time to pivot! 
Stay safe and well!