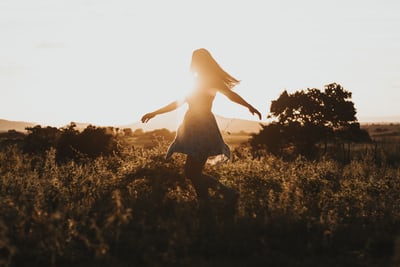 Does this sound familiar?….once I lose 15 pounds, I'll be happy, or once I get a new job, or a new relationship, I'll finally be happy? I think it's human nature to think that there is a goal that we need to reach before we can allow ourselves to be truly happy. The issue with that is if we are constantly growing, there is always a new goal to reach. So that way of thinking is an endless cycle and we're constantly postponing our happiness. That doesn't sound like a fun way to live.
In his book The Happiness Advantage, Shawn Achor suggests that success does not lead to happiness. Rather, happiness leads to success.  Think about that for a moment, doesn't that feel empowering and inspiring? Imagine if you become more focused on seeking happiness, and then see those out-of-reach goals become more easily attainable. I love that formula. That led me to think about how I can personally be more intentional every day about embracing happiness. In his book, Achor outlines several principles that he believes will help us overcome obstacles, reverse bad habits, become more efficient and productive, make the most of opportunities, conquer our most ambitious goals, and fulfill our potential.
I recognized that I have been utilizing several of his strategies like meditation, affirmations, movement, and humor just to name a few. Achor also suggested strategies that I was not as consciously tapping into such as planning something to look forward to, conscious acts of kindness, and exercising a signature strength. The book does a great job of explaining how the strategies impact our brains and ultimately enhance our productivity, creativity, and achievement. The principles in this book reinforce topics that many of our Wholistic Woman Retreats + Academy coaches have shared with our members this year. It's based on research from the positive psychology field, neuroscience, and Achor, a former Harvard lecturer and researcher who has appeared on one of my favorite shows, Oprah's Super Soul Sunday series.
On Wednesday evening, July 28, we'll have a virtual book club meeting to discuss Achor's book, The Happiness Advantage. I hope to see you there, and hear how it has impacted you!