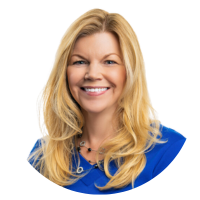 Sheila Turybury
Wholistic Coach
Sheila is a health and wellness coach who inspires a holistic integration of body, mind, heart, and spirit. She studied at the Institute for Integrative Nutrition (IIN), and is a National Board Certified coach (NB-HWC) and International Health Coach (CIHC). She's also studied Mindfulness-Based Stress Reduction and Mental Health First Aid. Sheila has a passion for supporting women in mid-life transition who are creating the life they truly desire.
She walks alongside women to empower them to live the life they now imagine for themselves. She focuses on a client-centered approach that gets to the heart of a woman's longing for transformation so she can thrive in this new, evolving season of life. Sheila guides women in discovering their vision for themselves and creating renewed meaning and purpose. She knows that after decades of service to others, it can be daunting to create a balanced, soul-centered approach to the life women now want.
Sheila walked this path herself to create greater health and well-being through fitness, nutrition, mindset and lifestyle changes, trauma healing, and spiritual discovery. She guides women to uncover their inner resources to create new vibrancy and greater self-worth.
Upon joining the Wholistic Women Living Community in 2018, Sheila immersed herself in the myriad of learning opportunities and the encouraging community. She's delighted to now be a partner coach and to share her experience, strength, and hope.
You'll find Sheila gardening, spending time in nature, and taking long walks with her golden retriever as she experiences spirituality in nature and through contemplative practices. Her women friends are an irreplaceable tribe of soul sisters and her three adult children fill her life with delight, laughter, and entertainment. Sheila and her adorable husband, David, are avid travelers and seek out international locales together – which she calls "fun, sexy adventures".